LNG (Liquefied Natural Gas) / Natural Gas
Energy for Industrial customers
LNG (Liquefied Natural Gas) / Natural Gas
Natural gas and LNG are extremely environmentally-friendly clean energies with little CO2 emissions.
ENEOS Group's Overseas LNG Project
The ENEOS Group invests in overseas liquefaction projects in Malaysia, Indonesia, and Papua New Guinea.
In Japan, we have set up supply chain system from our own terminals in Misushima, Hachinohe and Kushiro primarily to Chugoku / Shikoku, Tohoku and eastern Hokkaido regions via domestic vessels, trucks and pipelines.
We provide flexible proposals to meet our customers' various needs.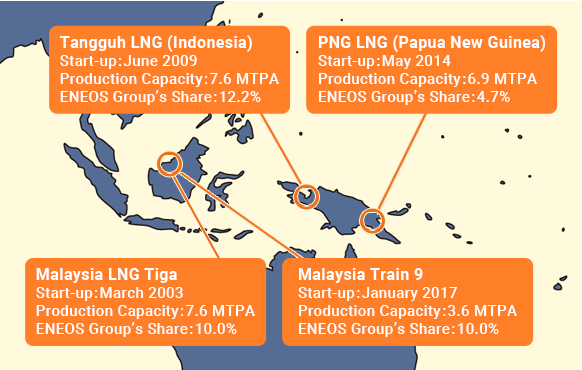 Domestic LNG/Gas Business
We have LNG import terminals in Hachinohe (Aomori Prefecture) and Mizushima (Kurashiki City,Okayama Prefecture)* 1 and a LNG domestic terminal in Kushiro (Hokkaido Prefecture)* 2
We have a lot of experience in natural gas business that we have accumulated through our unified gas supply chain system covering from development of gas fields overseas to domestic LNG and gas sales.
Utilizing our strengths as an integrated energy company, we can provide proposals that meet our customer's needs, which include the method of supply to our customers (gas supply by pipeline or LNG (liquid) supply by tank lorries) and the introduction of the most suitable gas equipments for each cuestomer.
1

JV with The Chugoku Electric Power Co., Inc.

2

JV with Hokkaido Gas Co., Ltd